Shenzhen SYE QUICK PCB Co., Ltd is a famous manufacturer of prototype PCBA,short-run production PCBs and small lot PCBs。SYE QUICK was founded in 1993 with its headquarters inShenzhen。 It boasts superior geographical location and a high-quality professional team that enables it to provide you with efficient and high-quality services。With SYE QUICK's development,
to ensure it has more sophisticated and better products for quick competing in the market and better server customers。SYE QUICK set up a subsidiary named "XINYI" at Shajing,Shenzhenin 2004,which has 200 employees,a plant area of 8000 square meters,and monthly production capacity of 12000 square meters。SYE QUICK set up another subsidiary named "XIEYI"in 2010,
marking PCB and SMT combied to form a complete PBCA industrial chain. Its products are widely applied in many fields such as automoblie,computer,medical equipment,communications tool,industrial control,military and aerospace industry。SYE QUICK established JiangXi Xinfeng in 2013,adding a splendid stroke to its future buleprint。
During its development,SYE QUICK attached great importance to the operation philosophy of"Good faith,fast delivery,harmony and people-orientation",It establishes a sound human resource management system,strengthens on-the-job training for emplyees, improves its incentive mechanism in both material and spiritual aspects, and enhances the corporate cohesion。To achieve the expected management efficientcy and paperless management,SYE QUICK established ERP management system in 2008 and uses the system throughout the market,manufacturing,quailty management,engineering design,pricing,cost control,and financial management,improving its production efficiency and coat management effect。
A company's development is inseparable from talents while efficient production and high-quality products also need sophisticated equipment。Since its establishment。SYE QUICK has procured a lot of advanced equipment。It has introduced modern production and testing equipment and software of leading level from the United States,Germany,Israel,Italy and Taiwan,including
drilling machine,pattern planting line,X-ray including drilling machine。Laser spray silkscreen machine,AOI machine,impedance tester,2D micrometer and ionic contamination tester,which enable SYE QUICK to produce high-tech produces such as mulitilayer boards。HDI boards,high-frequency boards,high TG boards,halogen free boards,impedance control,flexible and
rigid-flex boards。
SYE QUICK is committed to meeting international quality standards。Since 2001,SYE QUICK has
passed certification of the ISO9001:2008 Quality Management System and ISO14001:2004 Environmental Management System,with its products passing the UL certification。SYE QUICK was awareded as an "Excellent Enterpriser of Shenzhen in Waste Reduction" in Shenzhen in 2009.
SYE QUICK has many sales offices in large cities of China such as Beijing,Shanghai,Chengdu,Shenzhen and Guangzhou and has been rated by customs as an excellent supplier for serveral times。
SYE QUICK always adheres to the sustainable development philosophy of "Good faith,fast delivery,harmony and people-orientation"and the service spirit of striving to meet customers requirements to contribute to the electronics industry development,SYE QUICK will wholeheartedly provide you with comprehensive services。SYE QUICK is experieting to cooperate
with you。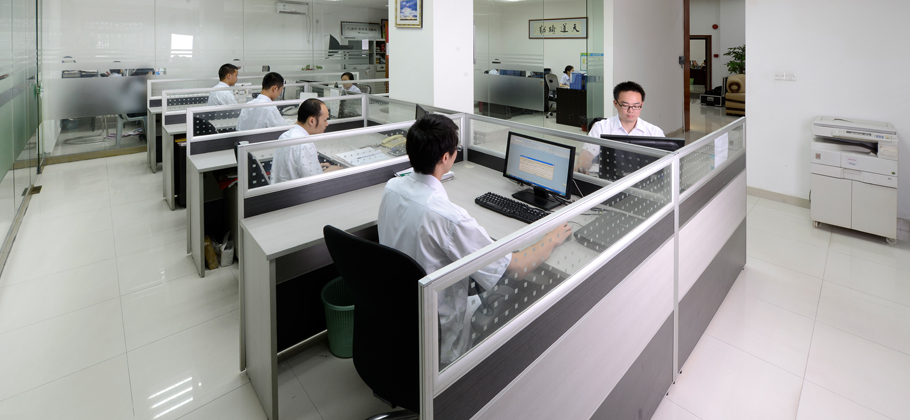 Corporate headquarters
Number of employees: 6
Floor area: 5000 square meters
Address: Shenzhen Baoan Xinghua Road and Baoan Avenue at the junction of 42 District Hua Chuangda modern service Industrial Park E building 6 layer
Introduction: headquarters functions, main group office, financial department, engineering department, Southern China market team, logistics distribution center.
Production plant
Number of employees: 200
Floor area: 15000 square meters
Production capacity: 12000 square meters / month
Address: Shenzhen city Baoan District manhole Street sand West Seventh Dong Industrial Zone
Main products: applied to communications, industrial control, security, power, medical, automotive, computer and other products of the 2-20 layer PCB, PCB HDI, metal base PCB (aluminum substrate, copper substrate), FPC and hard and soft combination PCB.